Johnny Appleseed was my first historical character. How lovely that this gentle man living in a violent time could set the stage for my career. This winter I performed Johnny for perhaps the 1,300th time, and it was just as much fun as the first.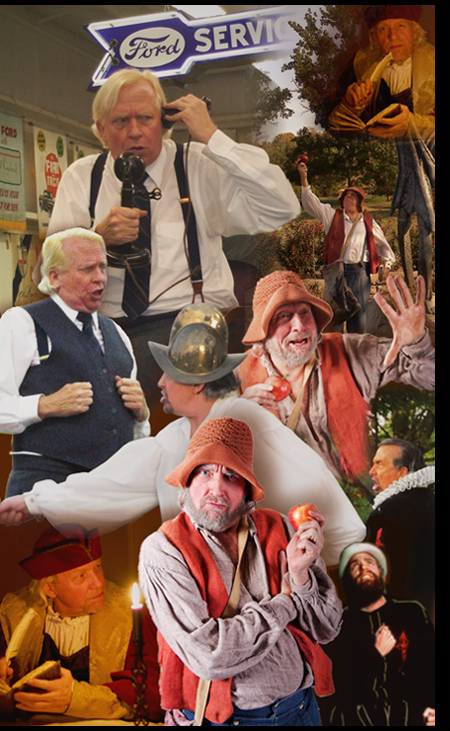 W.C. Fields was my final creation. This comic genius taught me much about the nature of comedy, why some jokes bomb and others have the audience rolling in the aisles. That's another perk of this job: I keep learning.
The Tandana Foundation has once again asked me to return to Otavalo Ecuador to be Artist-in-Residence for their summer school. Last year, we wrote and performed a 20 minute play in Spanish that was then translated into Kichwa, language of the pre-Incas. We will do something like it again. If you come see the students perform, I will show you breathtaking mountains and a people as kind as any on earth.
There is still room for you and your venue. Or, as Edison might say, "I'll keep a light out for you."
On Sept. 10, Thomas Edison will perform for the Greene County Historical Society in Xenia, Ohio.
On September 19 & 20, Edison will perform 3 times for the Colorado Humanities Council in Durango Colorado.

From Nov. 5-16, Edison will perform in 30 schools, sponsored by the Dubuque Arts Council. That's right 30. I'm already nervous.
January 7-12: Johnny Appleseed and Edison will perform 5 times in Naples, Fort Myers, and Palm City Florida. More details later.
"Last time, I told you about my new one-woman play about the Ecuadorian revolutionary and mistress of Simon Bolivar, Manuela Saenz. Three groups have shown interest. The play requires a lot of effort but is so worth it. I will let anyone interested read the first part. "
Please visit me on FACEBOOK