Since an apple tree lives 30 years, you could say 4 generations of trees later, I transformed into
Johnny Appleseed
for the first time. How lovely that this gentle man living in a violent time could set the stage for my career. This
winter
I performed as John in
Florida
and will again this
May
in
Indiana
. Please email me if you want more details on any performance I mention here.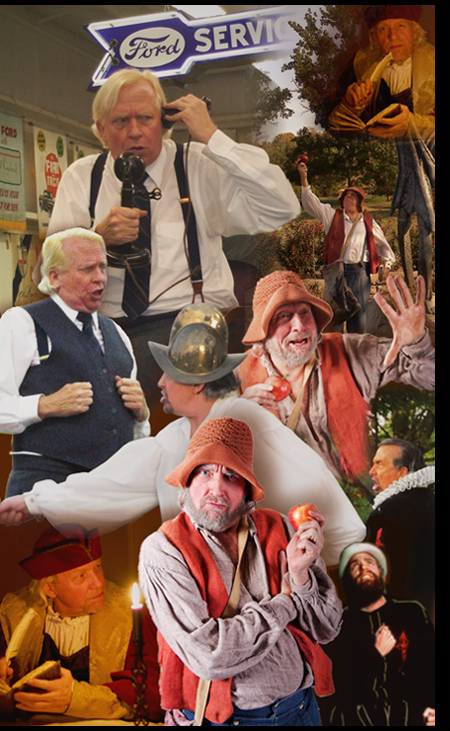 J. G. Bruff, my favorite 49er on the California Trail will broadcast several times to New York in April and May. The performance is not just about surviving the wilds of the west, but also about how people of different cultures can get along.
For the Month of June, Francisco Pizarro will take the stage in Lawton, Enid, and Tulsa Oklahoma as part of the Oklahoma Chautauqua. In addition, I will be doing adult workshops. This year, one will be called Tolerance: the New Intolerance which discusses the danger of condemning the past rather than learning from it. The second workshop is: Modern Peru: the Product of Then and Now. Everything is free and open to the public.
In July, the Tandana Foundation has invited me to return again to Ecuador to teach Theatre to Andean high school students. I have written new plays which I now must translate into Spanish. I am proud to say my play from two years ago has been translated into Quechua, the updated language of the Incas.
I have a few schools booked for Johnny and Edison in the fall, but there are plenty of openings, so please give me a call. Two schools in Indiana have booked Columbus in October.
In January, 2020, I will return to five libraries in the Ft Myer/Naples area and perform as W.C. Fields. This program is free and most appropriate for adults.
Please visit me on FACEBOOK